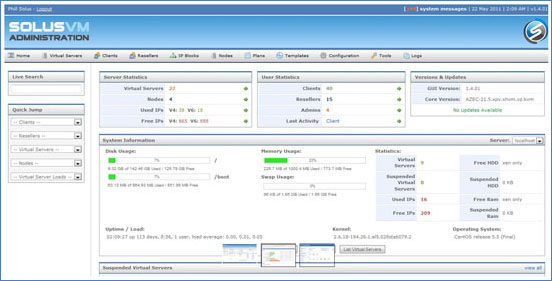 SmartHost Cloud Servers...the next-generation of hosting technology that forever changes the virtual computing landscape.
SmartHost Cloud Server packages allow you to select custom resources for cpu, memory, diskspace, and bandwidth allotments, which you can then utilize for any number of virtual instances (VM), and/or in any method that you desire. With SmartHost Cloud Servers, you receive a selected amount of base resources in your package, in a multi-tenant, public cloud environment. Within your resources, you can create an unlimited amount of virtual instances (VM), only limited by the resources you have selected and purchased. You can increase/decrease resources at any time beyond your initially selected levels. Utilizing the intuitive web-based console, managing your infrastructure is fast and easy. Create a virtual server with just a few clicks. Spin servers up/down on demand, configured as desired.
SmartHost Cloud Servers are designed for the client who would like to have the highest quality and reliability in server hardware, with the software and operational features of a Dedicated Server---all at a price closer to that of Shared Hosting. SmartHost Cloud Servers give you the perfect opportunity to operate as if multiple Dedicated Servers with root access---to learn the operations of such without risk, and without the huge outlay of capital. Relax and allow SmartHost to maintain the hardware and base operating system of the service, while you can focus on utilizing the software functionality of the server.
SmartHost Cloud Servers are powered by the SolusVM Cloud management software platform. SolusVM, combined with the OpenVZ and Xen virtualization platforms, permits management of multiple isolated virtual machines on a single physical server---sharing hardware, licenses, and management with maximum efficiency. Each virtual instance cerated performs and executes exactly like a stand-alone server for its users and applications, as it can be rebooted independently and has its own root access, users, IP addresses, memory, processes, files, applications, system libraries, and configuration files---resources assigned at your control. With SolusVM, our Cloud Server clientele can even fully re-install/reload their virtual instances with just the click of a few buttons. All SmartHost Cloud Servers come with web-based control panel access, including VM creation/deletion, reboot control, console/KVM access, operating system re-installation functions, and more.

Your basic contract with SmartHost includes basic system management upon request (reactive), but not individualized development work, nor full system management, unless otherwise specified. Fully managed service (proactive) is available at a very reasonable additional cost, as an upgrade to all SmartHost service offerings.
View list of available ISOs and Templates for our VPS and Cloud services.
Select your perfect cloud hosting plan
OpenVZ SSD Cloud Server
Perfect basic cloud hosting plan
10GB SSD RAID Disk Space

1GB Guaranteed RAM

1000GB Bandwidth / 1Gbps Port

Multiple Virtual Instances
Customizable Resources
KVM NVME SSD Linux Cloud Server
Ultra-Fast Linux cloud hosting plan
10GB NVME SSD RAID Disk Space

1GB Guaranteed RAM

1000GB Bandwidth / 1Gbps Port

Multiple Virtual Instances
Customizable Resources
KVM NVME SSD Windows Cloud Server
Ultra-Fast Windows cloud hosting plan
20GB NVME SSD RAID Disk Space

1GB Guaranteed RAM

1000GB Bandwidth / 1Gbps Port

Multiple Virtual Instances
Customizable Resources